Pivots can be instrumental in helping a business achieve success. Rarely will a company be launched off the back of the idea that will eventually make them a household name. In fact, it's very common for businesses to re-evaluate their situation and make major changes to one of the fundamental aspects of their business to achieve success.
From Netflix to Nintendo, there have been some inspiring companies over the years who have engaged in large-scale pivots.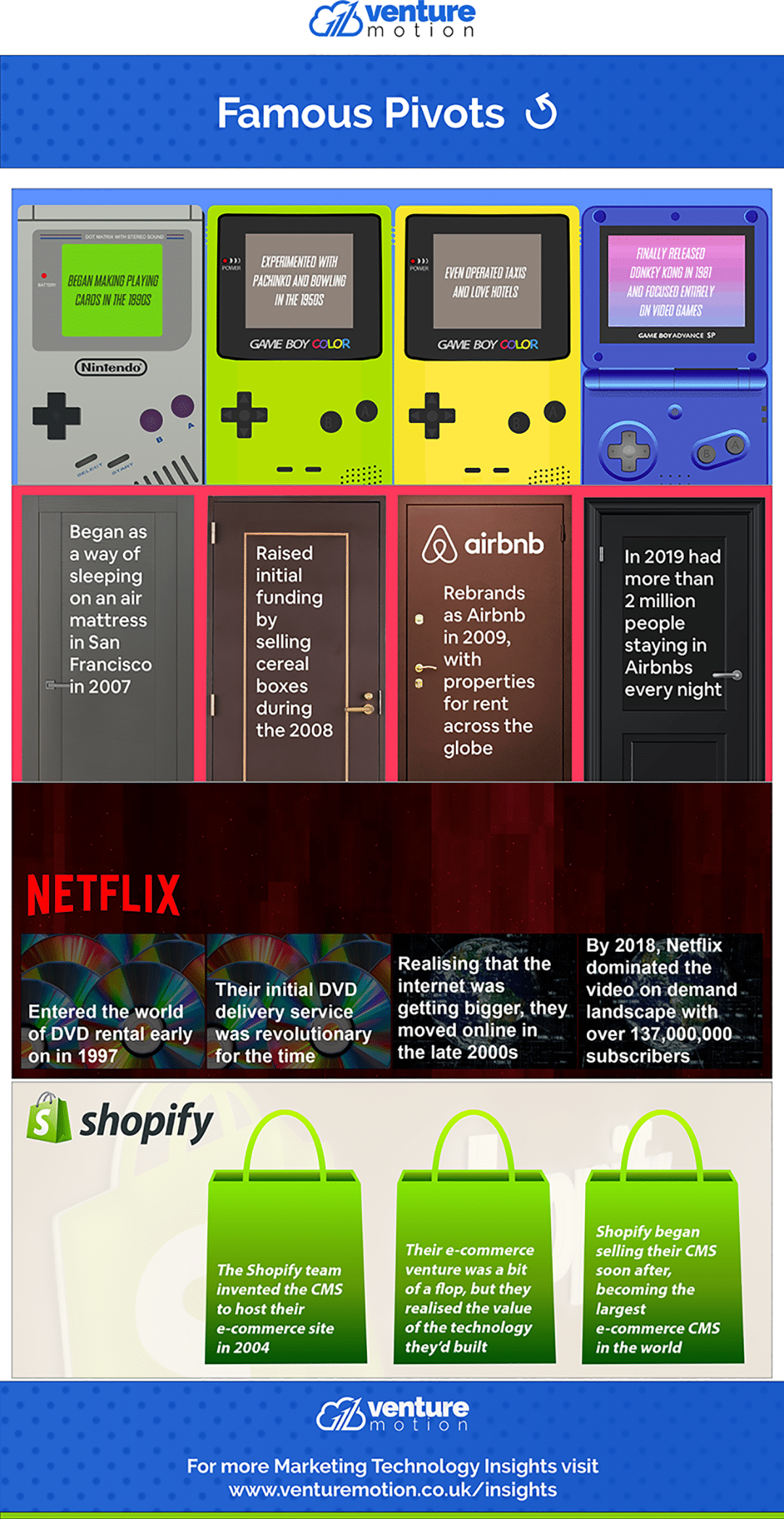 The Nintendo Business Pivot
While Nintendo may now be synonymous with video games in the minds of many, with the likes of Super Mario Bros, The Legend of Zelda, Animal Crossing and Pokémon in their repertoire, that wasn't always the case. In fact, Nintendo began life back in 1889 as a card game company 
By the late 1950s, Japanese society was changing, and Nintendo's customer base had found new hobbies Nintendo pivoted, experimenting with a number of business concepts. 
The company would try everything from taxi services to instant rice to pay-by-the-hour 'love hotels' before finally settling on a brand new technology to drive them forward. After experimentation with a range of gaming technologies throughout the 70s, in 1981, the Nintendo we know today was born with the release of Donkey Kong on arcade machines across the world
The Airbnb Business Pivot
In October 2007, Airbnb started life on the floor of founders' Brian Chesky and Joe Gebbia's living room. The two roommates came up with the idea of renting out an inflatable air mattress in their San Francisco apartment, along with a cooked breakfast, to offer an affordable place to stay among the city's overpriced and overbooked hotels. They funded their initial venture – AirBed & Breakfast – by selling cereal boxes for both the Obama and McCain campaigns during the 2008 presidential election. By the summer of 2008, they'd got their business off the ground.
AirBed & Breakfast's main clients were visitors to San Francisco's many tech conferences, meaning that their business acted as a business networking opportunity as well as accommodation. Realising that renting out a mattress on their floor wasn't sustainable, the founders of the company rebranded as Airbnb and launched their new website in March 2009.
Following the pivot from quirky accommodation with a networking twist into a unique opportunity for guests to stay in homes around the world, the success of Airbnb grew rapidly. In just three years, over 10 million people had booked an Airbnb, and by October 2019, more than 2 million people were staying in Airbnb properties every night – making them the largest accommodation company without even owning a hotel.
The Netflix Business Pivot
Netflix is one of the most famous examples of a company using new technology to pivot their business into a far more profitable position. Ever on top of trends, Netflix began as a way for people to rent DVDs over the internet all the way back in 1997 – the year the DVD format was launched in North America.
While their DVD-to-your-door service was popular, Netflix's founders always wanted to offer movies to rent online, but the low download speeds of the dial-up era made that an impossibility. Unlike their rivals in the now all but defunct Blockbuster, once DVD sales began to decline as online streaming grew, Netflix moved away from their DVD service. Despite having delivered over a billion DVDs in their first ten years of operation, they took the risk of pivoting to an entirely streaming-based service and, by 2018, had over 137 million subscribers worldwide.
The Shopify Business Pivot
Shopify's pivot is one of our favourites, as it truly shows how great marketing technology can overshadow the business it was built for. After launching a snowboarding e-commerce website in 2004 Tobias Lutke, Daniel Weinand and Scott Lake realised that none of the e-commerce content management systems available to them were any good – so they decided to develop their own.
Their creation went on to become Shopify. Realising that the technology platform they'd created to launch their hobby website Snowdevil would be far more profitable than the snowboarding store itself, they began selling their creation to other e-commerce companies. 
From snowboard company to the world's largest e-commerce storefront is one of the most ridiculous pivots to have ever occurred, but the founders of Shopify managed to pull it off thanks to their interest in the cutting edge of marketing technology.
How could your business pivot with technology? 
While some companies have pivoted in an entirely new direction that's not usually essential. Businesses are facing an uncertain future ahead thanks to the new practices that have become normalised during the Coronavirus pandemic.
From home working to a renewed focus on online shopping, the changes to the business world don't mean your business has to give up, but a marketing technology enhanced pivot can definitely help you to adapt.
It may feel like you'll need a mass restructuring of your business, but your focus should be on enhancing and optimising the services you already have using technology that is readily available to you. We've already helped our clients adapt to the strange future ahead with a range of marketing technologies, as we explore below.
During the lockdown we helped many of our clients adapt and pivot their own operations. We built virtual call centres, ecommerce marketing and stock fulfilment automations and converted manual operations into digital and automated processes, streamlining their businesses not just for the lockdown but for the future of their businesses.