The Schema markup family is wide-reaching and has existed for almost a decade. Back in 2011, the search engine titans of the time – Google, Bing and Yahoo – teamed up to create Schema.org, a website database designed to create, maintain and promote schemas for structured data on the internet.
Despite being conceived in 2010, it's only in recent years that search engine optimisers have truly begun to understand the value of Schema markup. Today, all the best search marketers are implementing it on the web in a widespread capacity. If you haven't jumped on the Schema train yet, then what are you waiting for? It's absolutely essential to utilise the power of Schema to achieve those effective rich snippets that'll really help your site stand out in Google. 
If you're unsure of exactly what Schema is and what it does, we've written this article for you. We'll introduce how Schemas work in general, before diving into the wide-ranging varieties of Schema markup. It'll be almost impossible to cover every Schema variant (there are over 1200, after all). Nevertheless, this will be a growing hub highlighting what different Schemas do for you in search, and why they're so useful.
What is Schema markup anyway?
As we briefly touched on, the Schema.org website was set up as a database designed to promote a standardised way of writing structured data for the internet. This might sound very technical, but the essential goal is to ensure that all website's have a straightforward way to communicate what they offer directly to search engines.
When it comes to Google, the most popular search engine on the planet, well-implemented Schema can net you rich snippets. Ranging from a business' opening hours to a quick overview of a recipe, rich snippets really help your site stand out in the search results.
Not only will your site stand out to searchers, but Google itself will also take note. The search giant has confirmed that sites that are effectively implementing structured data markup like Schema will be given priority in the search results. So not only can you expect a higher click-through rate, you'll also be ranking higher in SERPs too.
The bad news is that Schema doesn't work in a vacuum. You're never guaranteed to win a rich snippet, but the Schema makes it possible. To stand out in SERPs, you'll need a good SEO backbone which is doing all it can to ensure your website is delivering highly relevant and valuable information to the searcher.
The many types of Schema
Below is a list of the most important Schema types out there. We'll be constantly expanding this list with more and more examples, as the official list of structured data markup on the Schema.org website is constantly changing.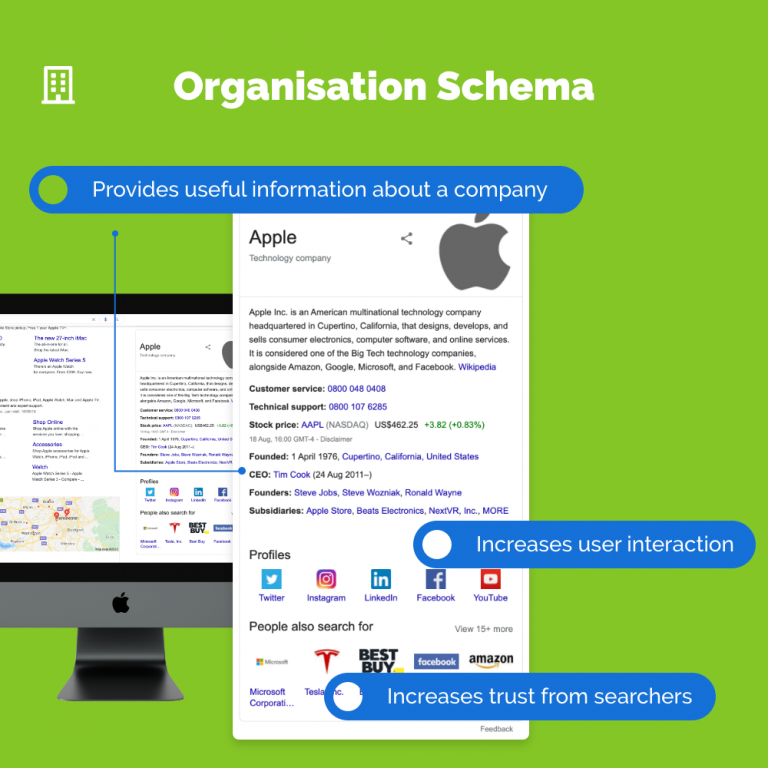 Organisation Schema
Adds information about a business to SERPs such as location and opening hours, similar to Google MyBusiness but appears under the search results rather than in the knowledge panel. A more refined version of this is LocalBusiness schema, for small local businesses rather than large organisations.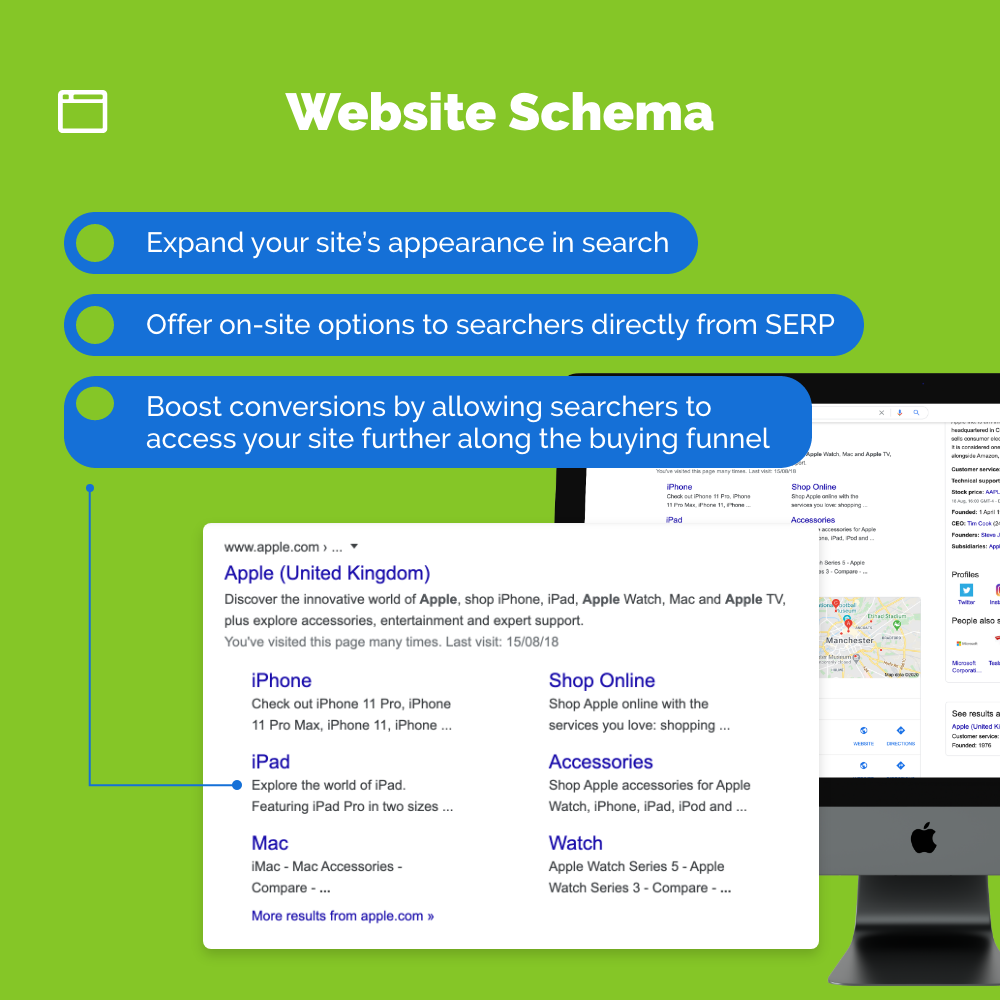 Website Schema
Website Schema is the schema that lays out all there is to know about a website. It'll show the name and URL in SERPs as well as giving searchers access to the internal site search feature directly from Google.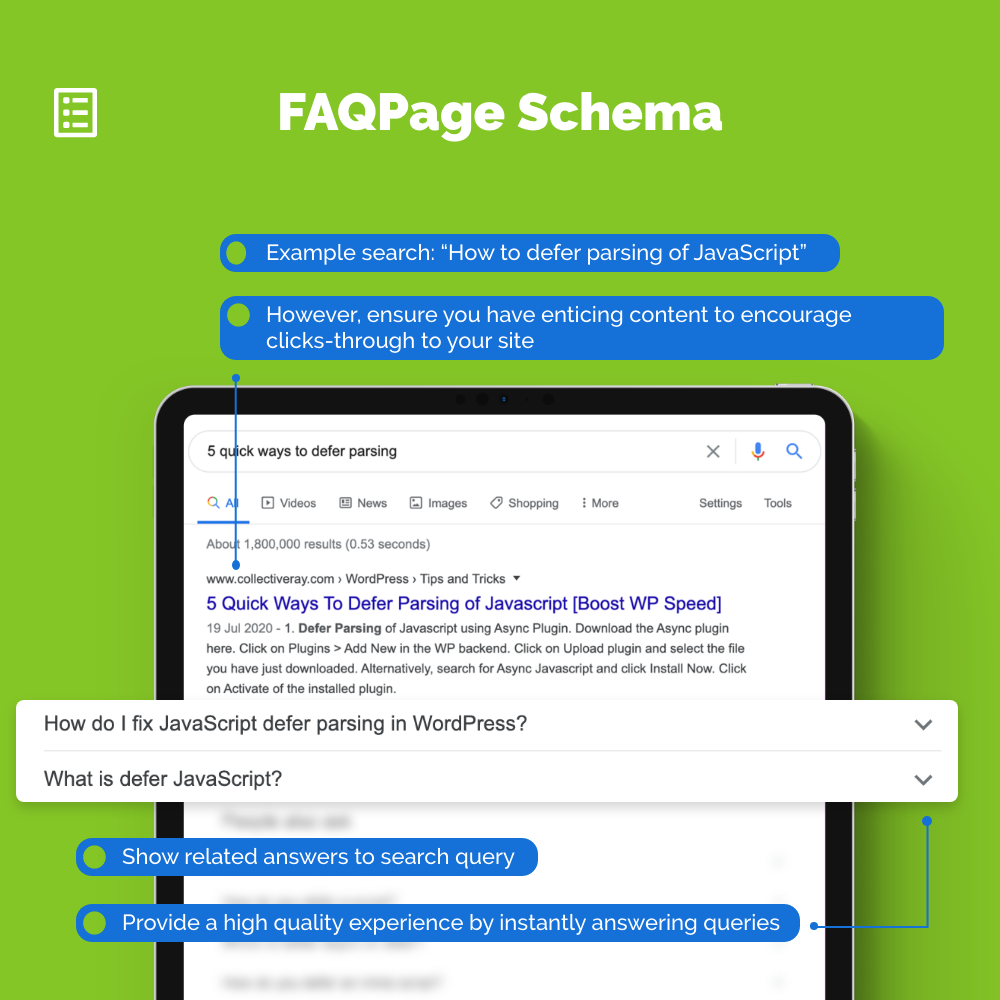 FAQPage Schema
Applying FAQPage Schema to an FAQ page or article on your website allows the questions and answers to the questions to be displayed in a helpful interactive box on SERPs.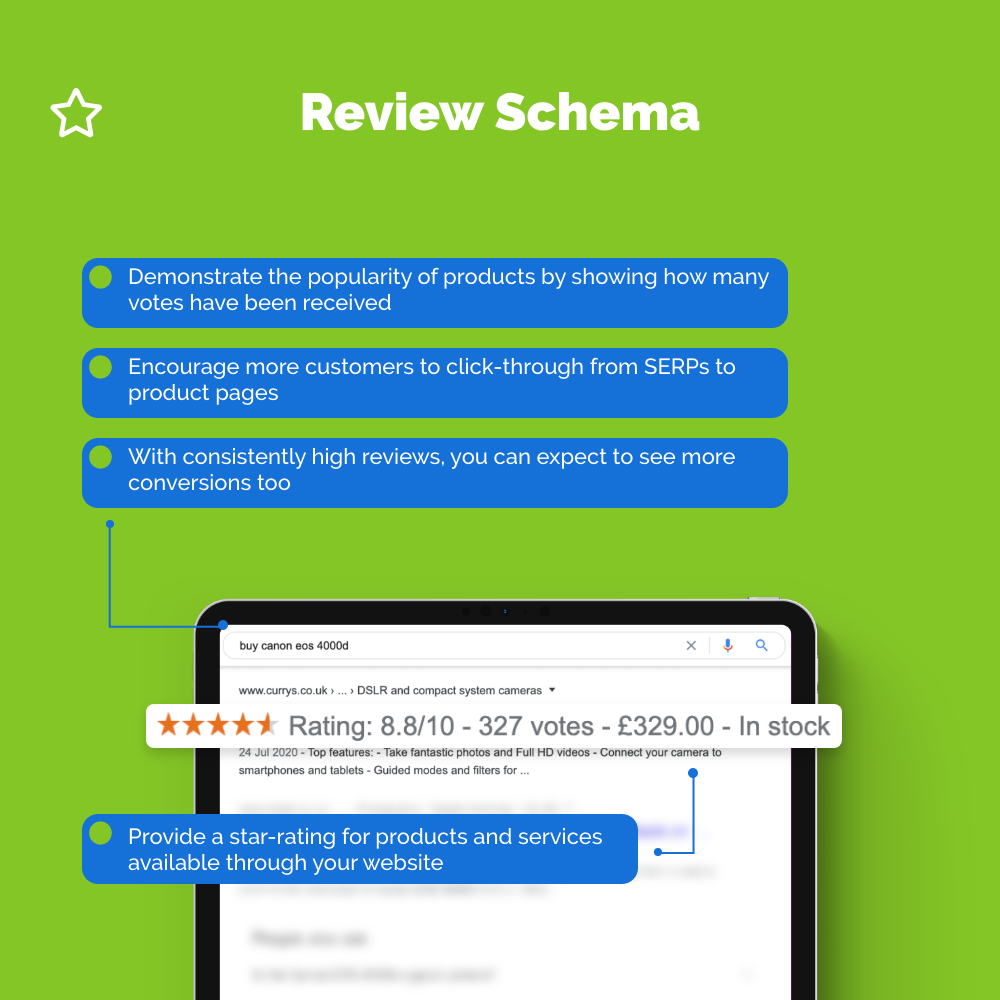 Review Schema
Review Schema can be applied to the website in general or specific products and services on offer. If users are leaving reviews on any platform from Trustpilot to TripAdvisor you can use Schema markup to aggregate them and display a star-rating in SERPs.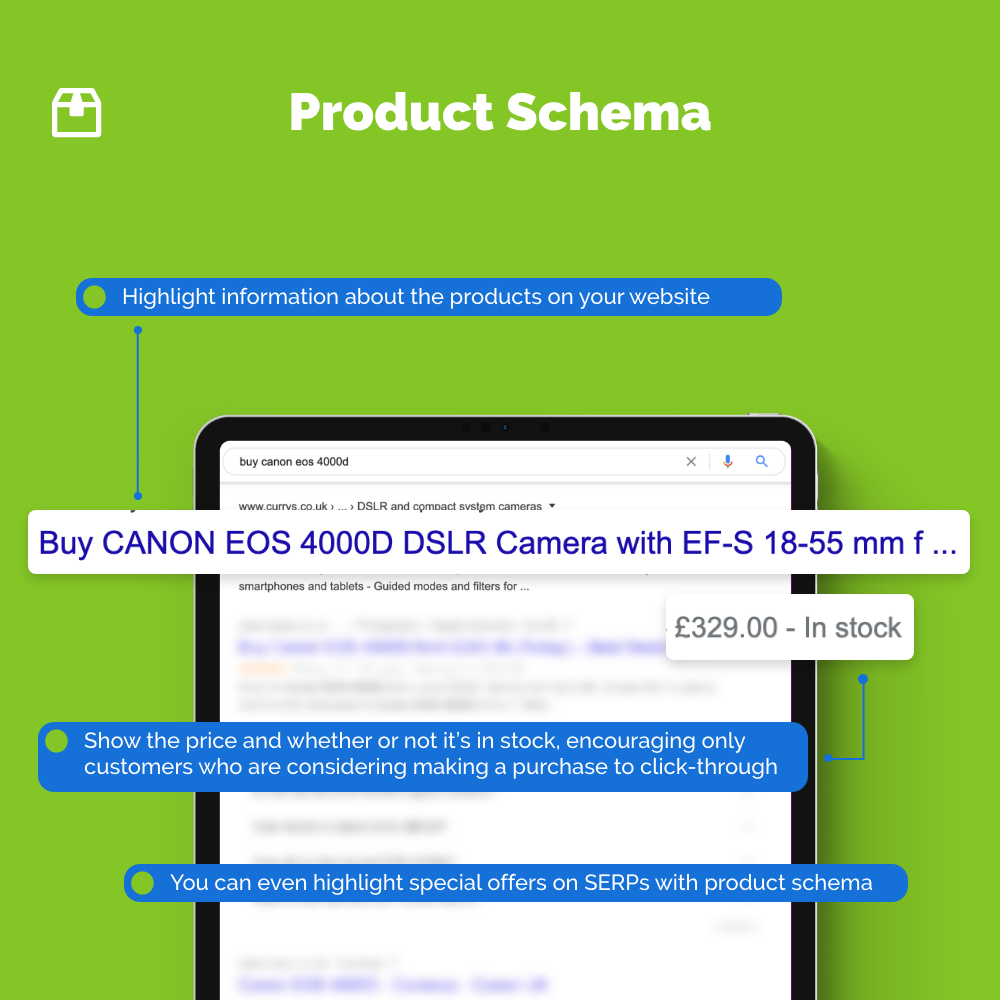 Product Schema
Gives information about the products on offer in SERPs. Well-executed product schema shows a brief product description, the average rating of the product and its availability and price in SERPs.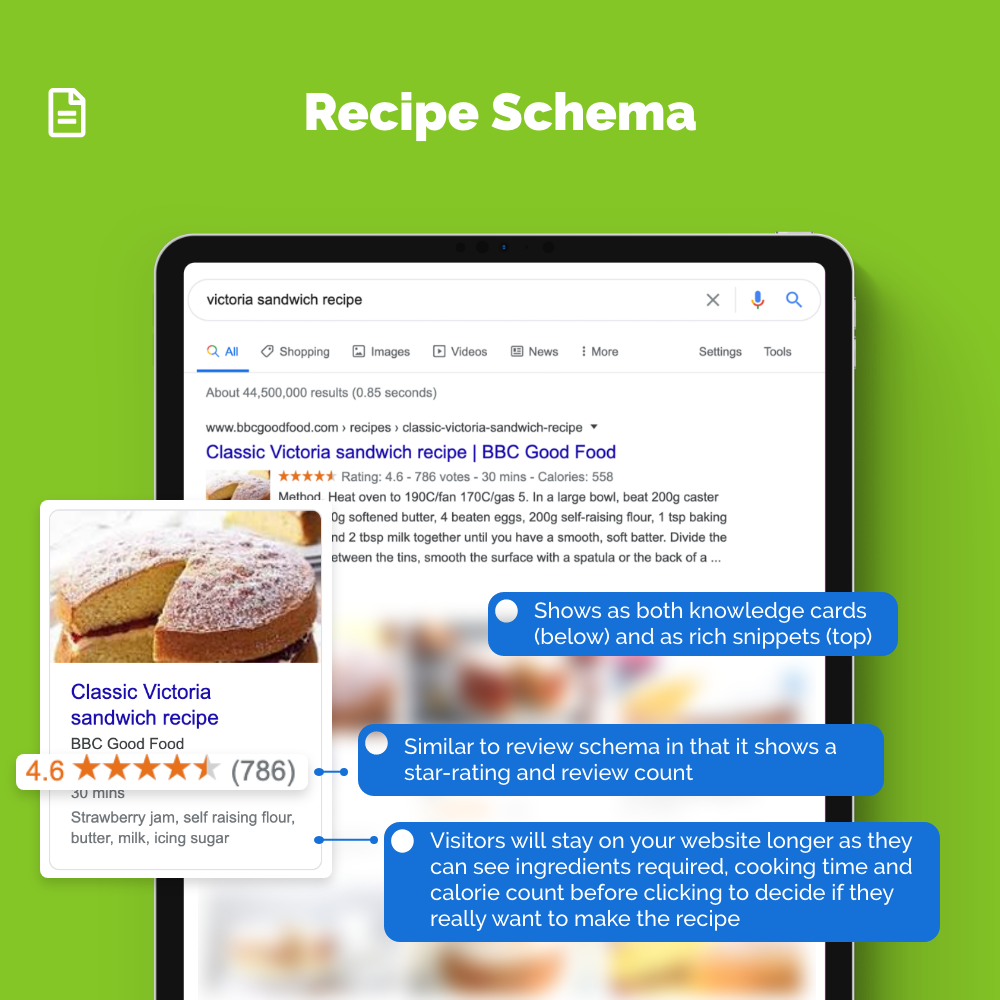 Recipe Schema
One of the Schemas the average person is most likely to encounter. Displays ingredient list, bullet point instructions, images and cooking time of a recipe. Very useful for anyone sharing recipes online.